By now, everyone has had a chance to watch Season 2 of Daredevil on Netflix. If not, I strongly urge that you do, because it is awesome! Also, this article will contain spoilers for those who haven't seen it yet, so, you have been warned!
The season kicks off with a bang (literally), when an Irish mob gathering is ambushed by an unknown assailant, who proceeds to massacre the entire squad with the exception of one lowly member named Grotto. Now it isn't revealed until the second episode, but the unknown assailant is none other than Frank Castle aka the Punisher. The Punisher is a famous anti-hero from Marvel comics who uses his extensive military training to wage a one man war on organized crime. To date he has received several live action adaptations, being portrayed by the likes of: Dolph Lundgren, Thomas Jane, Ray Stevenson and now John Bernthal. He is a very complex character with a staunch moral code that some might consider fairly askew. Moral code and ethics aside, one has to wonder if he actually has a good point.
In episode 3, the Punisher has captured Daredevil and chained him to a chimney on a rooftop overlooking the Dogs of Hell club house. While he prepares to draw the club members into an ambush and slaughter them all, he has a moral debate with the staunchly catholic Daredevil. The debate begins with Daredevil asking Frank why he is doing what he's doing (killing gangs) and Frank calmly replies  with " Because someone has to" while preparing for his ambush. Back and forth they continue to debate on how frank is able to sleep at night knowing what he has done.  Frank asks Daredevil what he thinks the difference is between them, Daredevil staunchly replies with "I don't kill people". The debate continues back and forth for a few minutes as tempers become elevated. The hard hitting line comes from Frank when he tells Daredevil that he (Daredevil) will never win. " You wanna know what I think? I think you're a half measure… You hit them and they get back up, I hit them and they stay down! … You know you're one bad day away from being me."
This final line actually draws a very interesting parallel with the Joker mythos in Batman: The Killing Joke. In that story, Joker tries to prove that anyone can become as crazy as he is with just one bad day. He targets Commissioner Gordon in an attempt to bring (arguably) Batman's strongest ally down into Insanity. He kidnaps him after shooting his daughter through the spine paralyzing her, strips her naked and photographs her while she bleeds on the ground, then uses these images to torture the commissioner over and over again in an effort to make him crack.  One could argue that every superhero story begins with one bad day, and that the worth of the person dictates how they go about the rest of their life after that day. Bruce Wayne became Batman, Peter Parker became Spider-Man and Tony Stark became Iron Man; these heroes took what happened to them and used it as a driving force to make a change.
The question you have to ask yourself is, Do you think the Punisher is right?
Does his stance represent the only true way to deal with crime?
The character of Frank Castle experienced a trauma so horrific it changed him from inside out. He was picnicking with his family in central park when they stumbled onto a mob hit (in Season 2 of Daredevil they change it to a STING operation gone bad), which resulted in his 2 kids and wife being brutally murdered in front of his eyes. He survived the ordeal, and used his extensive career in the military to wage a one man war on crime.  His brutal methods have often put him at odds with the Avengers and other classic heroes because they view his methods as extreme and criminal. There are certain heroes who understand that Punisher does what needs to be done. An example of this would be in the Marvel Now! story line of Punisher: Warzone.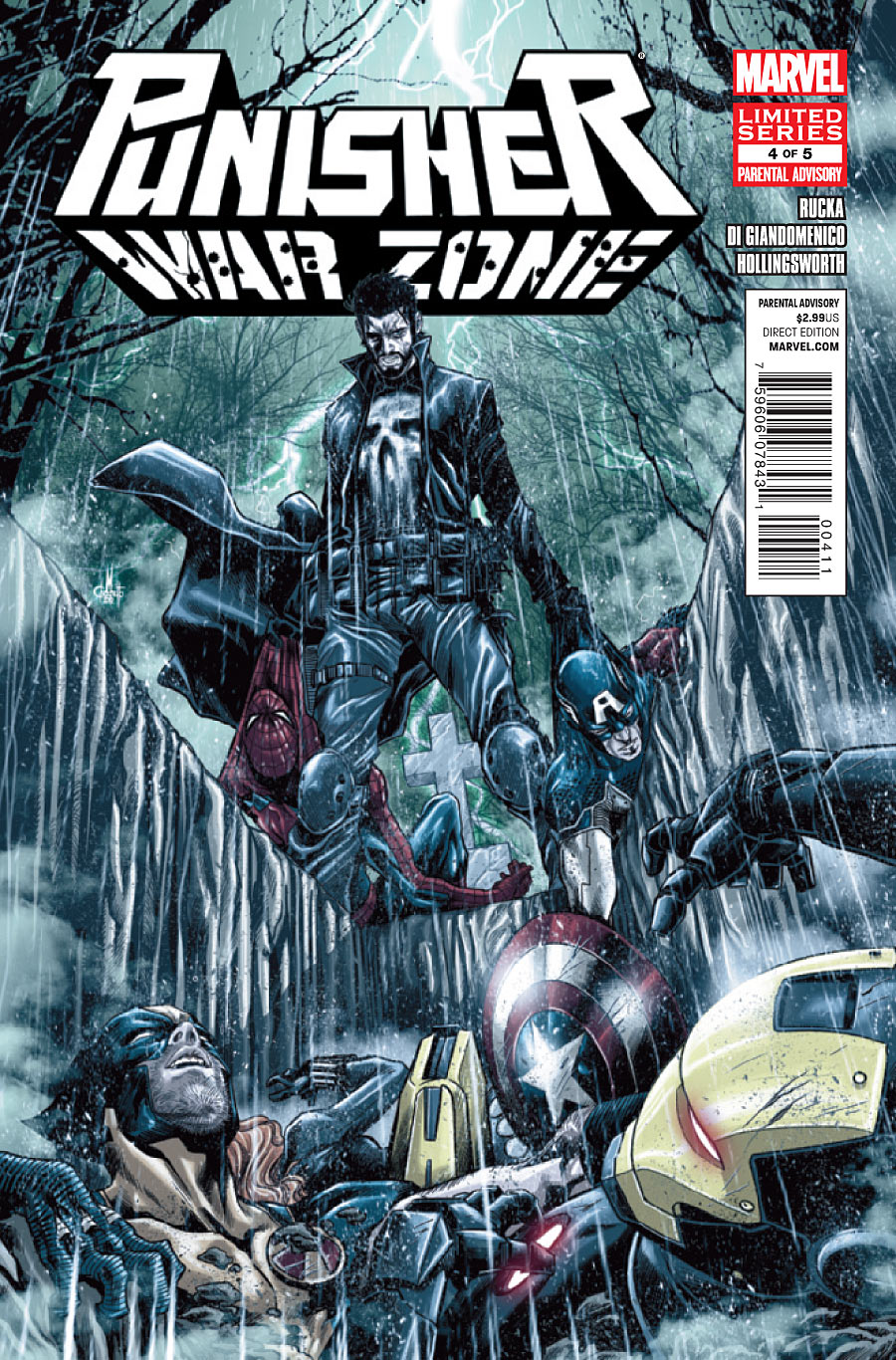 In this run, Spider-Man convinces the Avengers that they need to deal with Punisher after Frank accosted and incapacitated Spider-Man to steal one of his web shooters, in order to use it in a hit he had planned . Knowing the relationship with Frank and tendencies fellow Avenger Wolverine has, Captain America visits him personally to tell him to sit this one out. When he confronts Logan about it Logan tells him "… the difference between you and me Captain… is that I understand sometimes… people have to die". The run is amazing, and is frankly one of the better Punisher stories that I've ever read, I would highly recommend you read it.
Another Example of this would be from the DCAU movie Batman: Under the Red Hood. This is the story of how Joker murdered the second Robin, Jason Todd; and Jason's subsequent resurrection and donning of his new persona the Red Hood. This movie concludes with a heart wrenching confrontation between Bruce and Jason (who had abducted the Joker) during which Jason says "Bruce, I forgive you for not saving me. But why on God's good earth.. is he still alive?! Blatantly ignoring the graveyards he's filled, the friends he's crippled, if he had taken you I would've hunted him down and sent him off to hell! I would've thought… I would've thought I would be the last person you would let him hurt…". Bruce admits to wanting to kill Joker, but he says " If I do that, if I go down into that dark place… I'll never come out". This line is what firmly defines what the difference between superhero and anti-hero is.
Anti-heroes like: Red Hood, Punisher, Grifter, Moon Knight, Ghost Rider, Deadpool and even Green Arrow (on some occasions*), toe the line between hero and villain every chance they get. While their methods often revolve around maiming/killing, they only do it to criminals and those few people who deserve it.
Heroes come in all shapes and sizes, but regardless of what they look like they are heroes because they work for the greater good. Because you don't agree with how someone carries about their heroing, doesn't make them wrong. It could be argued that anti-heroes see a larger impact on criminality than clean cut superheroes do. With that in mind..which side do you fall on, is the Punisher right?
*See Arrow Season 1 and Justice League: Cry for Justice